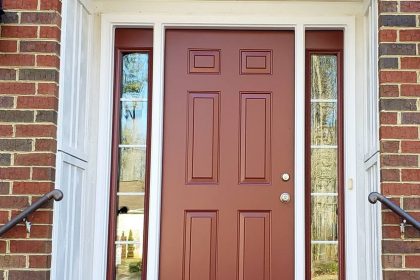 The exterior of your home is the first thing people see, and first impressions are everything – especially if you're thinking of putting your home on the market any time soon. Your home's entry doors need to be sturdy, durable, and weatherproof, but you also want them to match the façade of your home and look great at the same time. It can be a hard balance to strike, but these three tips will help you choose the perfect entry doors for your home.
Material
First, you need to decide what material you want for your entry doors. If you want the natural look that wood brings you, make sure you're buying something high-quality and weather resistant without breaking the bank on a single door.
If you want the highest security possible, you may want to consider a steel door. Fiberglass is a great option for a wide variety of people because it's low maintenance, secure, and can take on the look of wood. Once you decide what your priorities are, you can settle on a material and move on to the next step of the process.
Design
You're going to want your entry doors to fit in with the overall design of your home's exterior. Look at the colors and architectural style of your home's façade and choose a door that will look seamless. Or, if you want your entry door to act as a statement piece, you can choose something that contrasts slightly with the overall style and colors of your home to add some visual interest.
Extra Features
Before settling on your entry doors, research any additional features that you need and make sure those can be included. These features can include things like an Energy Star rating, additional security measures, a mail slot, and more. Once you have your complete list of wants and needs, it's time to buy your perfect entry doors!