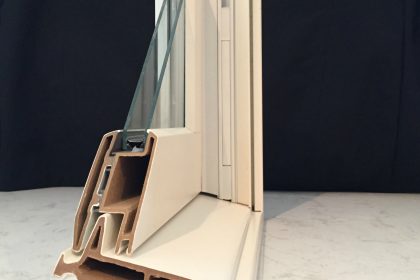 You're probably familiar with wood, metal, and vinyl as options for windows. And there are many advantages to each of those options but with those advantages come some disadvantages as well. That's why Fibrex® windows from Renewal by Andersen® are designed as a better option for replacement windows.
Fibrex®, a patented material, is a composite made of reclaimed wood fibers and vinyl PVC developed by Andersen® Window Company. While you may not know much about Fibrex®, it is engineered to be stronger, more durable, and energy efficient than the other window material options. Here's what you need to know: Fibrex® deflects heat, Fibrex® has a low Thermal Expansion Coefficient, Fibrex® is rot and termite resistant, and Fibrex® is good for the environment.
The Renewal by Andersen® Fibrex® window frame material is an integral part of how windows keep your home well-insulated and well-protected against heat gain and heat loss. Fibrex® deflects temperatures of up to 221 degrees F. With extreme temperatures in the summer, the sun can heat the exterior surface of your home up to 175 degrees. Fibrex® provides you with the heat tolerance you require to perform flawlessly in summer's blazing heat.
Because windows are made of multiple materials, glass and the casing around the glass, all the materials need to expand and contract similarly. Fibrex®, like glass has a very low Coefficient of Thermal Expansion, so temperature variations don't loosen the bond or create gaps in the window frame. Fibrex® windows are guaranteed to maintain their airtight seals and insulating properties. No leaks, no foggy glass, and no cold spots!
Andersen® makes Fibrex® by taking reclaimed wood fibers and vinyl PVC, and applying tremendous heat and pressure. This bonds the two materials together. The vinyl can't peel away from the wood's tough structure. And the vinyl keeps water from getting to the wood. They protect each other. Because of this tight bond, Fibrex® is resistant to decay.  Fibrex® is 100% resistant to rot. It will never deteriorate or disintegrate. Fibrex® is also 100% resistant to termites.
Andersen® uses reclaimed wood from their own window manufacturing process. This is scrap wood taken from other windows and/or other wood products. Trees are saved and deforestation is curbed because Andersen® does not need to harvest wood for their Fibrex® windows. Since the materials are reclaimed from their own manufacturing plants, there is no cost to ship long distances. Andersen® saves on fuel and labor this way, and you can realize these savings in windows that are affordable and guaranteed to last. Due to these efforts, Renewal by Andersen®'s Fibrex® windows have been awarded the Green Seal. This award speaks specifically to Andersen®'s commitment to protecting the environment.