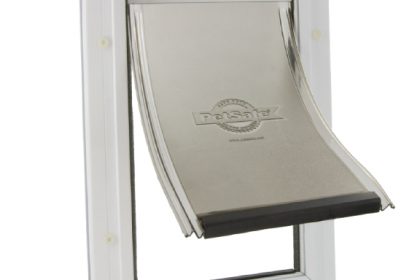 Pets have commandeered a place in human hearts for centuries. Even Ancient Egyptians had cats as pets, although those were more free range than most cats in modern society. Pet doors were invented for domesticated animals that are encouraged to go out in the enclosed backyard by themselves for a bathroom break or recreation. There are many benefits to pet doors including better behavior, health, safety, and convenience for your pet.
When you adopt a dog or puppy, you anticipate having a few accidents in the beginning. As a pet parent these accidents can be incredibly inconvenient and frustrating. But think for a moment, even the most well behaved and trained dog can have an accident when it needs to go and no human is in sight. Having a pet door can help to alleviate this frustration for you and stress of disobeying for your dog.
Just like humans, when pets have to refrain from urinating for long periods of time they can develop urinary tract infections. When infections like this occur, the owner may not realize the health of their pet until it becomes more severe and painful. By installing a pet door, your pet can keep drinking the water they need to stay hydrated and avoid UTIs.
Incorporating a pet door allows your pet the freedom to get out of the house. They can run, explore every tree and shrub or even just lay in the sun. Fresh air and exercise are important for your pet's health. Lots of exercise brings to mind the old adage: a tired dog is a good dog, which could be said for other pets as well.
Nothing is more mind boggling and frustrating than when your pet goes to the door to be let out and then wants to immediately come back in without taking care of business. It's especially inconvenient when you've worked all day and all you want to do is sit down but you have to keep getting up to let the dog out. The convenience of having a pet door alleviates the need for you to act as doorman when your pet needs or wants to go out and in and out and in.
Many different pet doors exist, some install into the opening of sliding doors, others are built into the door. Mr. Rogers Windows and Doors also offers some pet door solutions. Schedule your FREE in-home replacement window consultation to find the solution that fits best for you and your pet.