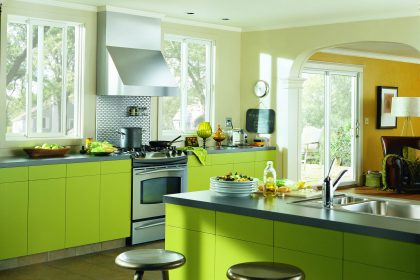 Sliding windows have become increasingly popular over the past few years, and now they're one of the most sought-after styles for replacement windows. Sliding windows are horizontal windows that usually consist of two or three large sections. They open by sliding horizontally, much like a classic double-hung window laid on its side. These are three major reasons to choose sliding windows for your home's replacement windows.
Energy Efficiency
The less complicated design of sliding windows means that they can close extremely tightly, so they don't let any outdoor air inside. Renewal by Andersen offers sliding windows that are made with High Performance™ Low-E4® Glass that keeps heat out during the summer and during the winter. Investing in energy efficient sliding windows can save you money over time by reducing your monthly energy bills.
Uninterrupted View
One of the best things about choosing sliding windows is that you'll get a gorgeous, uninterrupted view of the outdoors. Sliding windows can be installed using large panes that aren't interrupted by grilles or grids, meaning they can offer a huge, almost panoramic view of the outdoors. Renewal by Andersen offers a range of beautiful sliding windows that will exponentially enhance the natural light in your home without letting in too much heat from the sun during the summer. If you're thinking about choosing sliding windows as the replacement windows in your home, consider installing them facing the best views in your home so that you can bring a little bit of natural beauty inside.
Low Maintenance
Sliding windows have fewer moving parts than other common types of replacement windows, which makes for easy cleaning and very little required maintenance. Springs and pulleys need regular maintenance to ensure that they'll continue working properly, but sliding windows don't use any mechanisms like these, so they require very little upkeep. As long as your sliding replacement windows are installed correctly and use high-quality glass from a trusted company like Renewal by Andersen, you won't have to perform a ton of upkeep over the years to keep them in great shape.