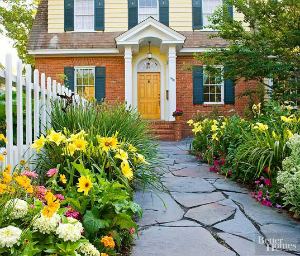 Front doors, entryways, and landscaping all work together in making a charming and welcoming home façade. Better Homes and Gardens (BHG) shares amazing front door and landscaping ideas that will inspire you to make your home even lovelier. 
Imagine beautiful flowers that welcome you as you enter your home or gas lanterns that hang in the entryway with greenery on the side. You might also create a cottage-style look with a bluestone footpath and large planting beds.
Check out a gallery of interesting front door and landscaping ideas from BHG here.