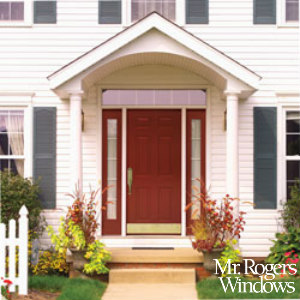 Do you want a door that offers superb security without sacrificing your sense of style? Steel doors might be your best option. They are sturdy, most are Energy Star certified, and they now come in a variety of styles that will complement any kind of home.
Angie's List shares more information about steel doors. Here's a quick overview of 5 important things to know about steel doors:
Steel doors are made of very sturdy galvanized steel coated with zinc oxide, which makes the doors resistant to rust, corrosion, and scratching.
Most steel doors used in homes are not made of solid steel but have a foam or wooden core. A high-density polyurethane foam interior makes them energy-efficient by helping to prevent heat transfer. Since such doors are quite expensive compared to other door types, steel doors are typically used for added security as exterior doors only.
Steel doors can be bought in most retail and hardware stores with prices ranging from $25 to $800, depending on the features and the hardware that goes with them.
You can buy a steel door that is already finished with weather-resistant paint or one that is pre-finished, which means it is plain white and ready to accept any type of paint, though weather-resistant paint is advisable.
Steel door installation is best performed by a professional to ensure proper measurements, as well as the sturdy jambs and door frames needed to support a rather heavy steel door.