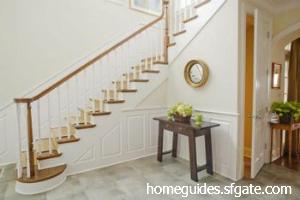 After living in your home for so many years, you may find yourself taking on new renovations and installations to adapt your home to your changing needs. If you are in need of storage and have some enclosed space under a staircase, you can actually use this space to add a storage cabinet or, if you have a larger space, an actual storage room. 
To convert the space to a storage or stock room, you will need to install a pre-hung door, which can be found in many home improvement shops.  Home Guides by SFGate shares the steps for completing this home project.
The first few steps involve measuring, opening a part of the wall, and installing the trim, and the next few steps describe how to install the pre-hung door.
Click here to get the full instructions.