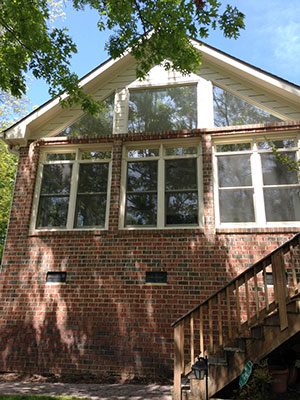 The operating windows in this home were all replaced with Pella aluminum clad windows. The homeowners have experienced seal failure and water leakage with the windows, and they are still trying to get satisfaction from that manufacturer. When they wanted to replace the windows in their roof line area, the large picture window and two triangular windows, they called us since they have had so much problem with Pella windows.
What's interesting about this project is the elevation. We install windows from the outside, to protect the home. So to remove the old windows and install the new windows will be a 3-story project.
Depending on how close that staircase is to the wall will determine our strategy. We could use pump jacks, or create a slide using two extension ladders.
Installing windows or doors has a lot of construction variables, depending on where the windows are located and what condition they are in. After you buy windows, we send a lead mechanic out to the home to inspect the project from a construction point of view. He will determine what materials are needed, what wood rot on the sills and framing will need to be provided etc. He creates the materials and construction checklist so there is no delays on installation day.