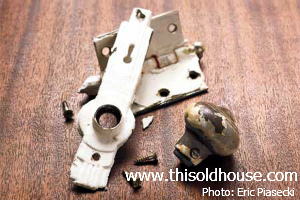 Whether you forgot to remove or cover your door hardware before painting or you just deliberately painted it, you can strip the paint off hardware and get back to that clean, polished look again.
You can remove paint from hardware in two ways. The first method utilizes a crockpot. Just put water and liquid detergent along with your painted hardware into the crockpot, turn on the heat, and let it sit overnight. You can even remove the paint with your fingers after soaking your hardware this way.
If you are in hurry to remove the paint, you can also do so using a chemical paint remover called methylene chloride. Be sure to do this outdoors, and remember to always protect your skin and eyes.
Get the details here.