When a door does no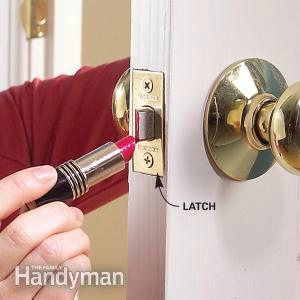 t close, it often means that the door latch is misaligned. To solve this problem, there are 3 easy fixes you can try. 
Before trying the any of these solutions, do the lipstick test to see where your door latch actually contacts the plate. The lipstick test involves daubing lipstick on the latch and putting some masking tape on the strike plate. Close the door and you will be able to see the misalignment that causes your door to remain open. Once this is determined, then you can try the following remedies:
The first thing you can try is to tighten the hinges.
If the first step does not solve the problem, get a 3-inch screw and replace one of the screws on the jamb side of the hinge.  Do this on the top hinge if you need to raise your latch or at the bottom hinge if you need to lower the latch.
Finally, you can either enlarge your strike plate by using a file (if the latch misses the plate hole by 1/8 inch) or reposition the strike plate by enlarging the strike plate mortise (if the strike plate is at the correct level but does not go in far enough or if the latch misses the plate hole over 1/8 inch high or low).
Check out the complete instructions with illustrations here.