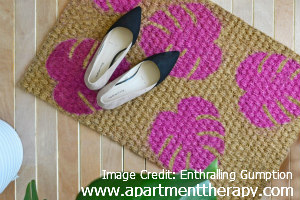 One way to make your home more welcoming to guests is to liven up your entry, and laying down a fun and unique doormat can do the trick.
Need to be inspired? Check out some interesting doormat ideas here shared by Apartment Therapy.  Most of these doormats can be easily bought and upgraded with a little paint and your own creativity.  There is a reversible wooden doormat that is plain on one side and has a flower pattern on the other, and other mats that are either spray-painted or hand-painted with numbers, words, and patterns.
You can simply copy these ideas or make your own design that will match your personal style.  If you have your own creative ideas, please share them through the comments section below.