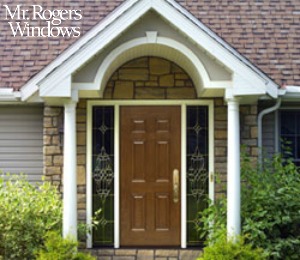 All exterior doors, such as front doors, face wear and tear. Over time, paint can fade and flaking can occur due to the external elements that doors are typically exposed to.  Sooner or later, you may need to refinish your fiberglass door. This project can either give your door a fresh new look or it could be a complete disaster. To make sure you get your desired finish, try to avoid these four basic mistakes when refinishing your fiberglass front door:
Surface was not cleaned well enough, which can result in bumps and lines caught beneath the top coat;
Using a pigmented or other not-clear finish that will move you away from the final stain color you wanted;
Applying the topcoat too thickly or heavily, resulting in an uneven finish; and
Applying a succeeding coat on a surface that is not completely dry.