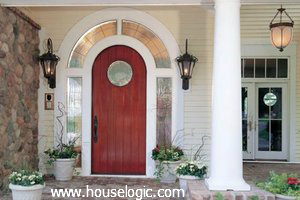 The replacement of an entry door is one of the most costly and important decisions you can make at home. Steel, fiberglass, and wood – which material should you choose for your replacement door? Each of these three types has pros and cons. Choosing the best option not only gives your home a boost when it comes to looks but will serve other needs too, such as security, energy savings, and added value to your home should you decide to sell it in the future.
Let's take a quick look at the features of the different materials you can choose for your entry door.
Steel doors
More affordable than fiberglass and wood doors;
Provide the strongest barrier against intruders;
Have a shorter lifespan, lasting for 5-7 years, compared to fiberglass and wood doors, especially when exposed to salt air or heavy rain; and
Dents and damages may be difficult to repair.
Fiberglass doors
Come in a variety of styles, including those that look like real wood;
Perform well with weather changes and may last for up to 20 years; and
Provide good insulation and protection against intruders;
Wood doors
Best choice for high-end projects because of their classic look;
Can be hand-crafted for a one-of-a-kind statement;
Most expensive among the three door materials;
Require the most maintenance but are easier to maintain and repair compared to steel and fiberglass; and
Need to be refinished at least every two years to avoid warping and splitting