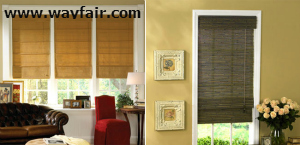 In addition to curtains and drapes, blinds and shades are also very popular and versatile window treatments you can consider for any type of home.  Blinds and shades differ in some ways and come in different types to fit your needs and the style of home.
Blinds
Controlled by a chord, blinds have slats or vanes that can be tilted or angled to regulate the angle and amount of light that enters the room.  The slats are either vertical or horizontal and can be kept closed, partially open, or fully open.  Blinds come in different types including aluminum, faux wood, vinyl, wood, and insulated.
Shades
Just like blinds, shades can be controlled by a cord, but only to raise or lower them.  They don't have slats to control the angle and amount of light that enters your room.  Shades, however, are versatile when it comes to texture, pattern, fabric weight, and style, and include such types as Roman shades, honeycomb/cell shades, and blackout shades.
You can click here to learn more about blinds and shades, as well as the different varieties, so you can understand more about these window treatment options.