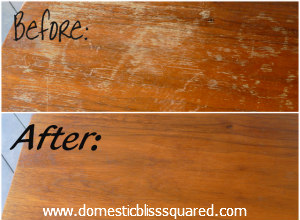 Do you have pet scratches on your wooden door, scratches on a wooden table, or any other marks on wooden furniture or fixtures? You don't need to do any painting or staining for this fix. With just two kitchen-ready ingredients, you can hide those scratches on your wooden pieces in no time.
What you need to do is mix ½ cup of vinegar and ½ cup of olive oil. Dip a clean kitchen rag into the mixture and wipe over the affected area until the scratches disappear. It seems like magic, but the solution really works wonderfully.
While deeper scratches may require staining or painting, this easy method is a temporary solution to quickly solve your problem without much hassle.
Read the original post here.