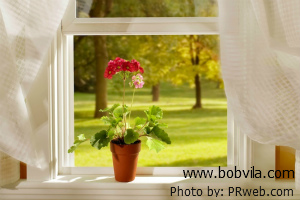 The solution to stuck double-hung windows depends on the cause of the problem.  Usually, it is due to hardened paint, but it could also be something else.  
Bob Vila shares some methods for fixing double-hung windows that won't open, as well as some of the issues that might cause them to get stuck in the first place.
Remove hardened paint with a utility knife. When your windows are newly painted, hardened paint is often the culprit behind stuck windows.  To fix this problem, use a utility knife and run it along the joints surrounding the sash.  As soon as the window opens, rub a wax candle around the area where the sash travels to lubricate it and make it easier to open in the future.
You may need to remove the upper and lower sashes to further remove paint from the parting strips of your windows.  Again, you'll need your utility knife to score the paint.
Paint is not always the cause of stuck double-hung windows. Check to see if your window sashes are wet or swollen. If you notice that the sashes are water damaged, then your home's exterior may either have poorly installed flashing or lack it altogether.  Seek reliable professional help to ensure that you take the best next steps.
Scrape, sand, and repaint your stuck window. If the sashes are not wet or swollen, Bob suggests scraping and sanding the window, then applying a coat of primer and a coat of paint. Make sure to let the paint dry completely before reassembling the windows.
Consider using a dehumidifier. In some cases, stuck windows may be caused by high humidity. A dehumidifier or an exhaust fan can help solve and prevent this problem in the future.