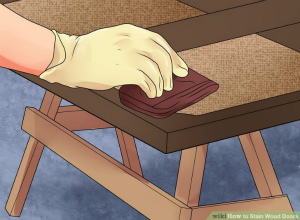 Wooden doors, especially entry doors, are exposed to the external elements. To keep them looking and working great, you need to regularly paint or stain them.
To stain your wooden door like a professional, you can follow the instructions shared here by WikiHow. Here's a summary of the steps:
Prepare the door for staining by removing the door from its hinges and removing its hardware.
Lay your door on a sawhorse and sand the door thoroughly.
Wear protective eye wear and gloves before you start staining.
Using a lint-free cloth, apply stain evenly to the door, going in the direction of the grain.
Let the stain set and then wipe it off with a clean lint-free cloth.
You may repeat steps 4 and 5 until the desired color is achieved.
Apply a urethane finishing coat with a bristle or foam brush.
Sand off any bristles that are visible after the finishing coat. Coat at least two times more, sanding in between the coats. The last coat should not need any sanding afterwards.
Let the finishing coat dry completely and then wipe with a clean cloth.
Reattach all hardware and return the door to its frame.