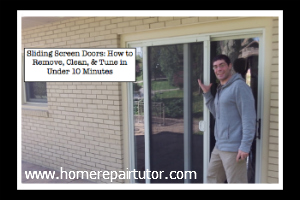 If your sliding screen door does not slide smoothly, chances are it is dirty or not well-lubricated.  How do you clean your sliding door to get it operating like new again?
Here is a screen door cleaning guide that takes you from removing the sliding door from its tracks to putting it back in place in just 10 minutes or less.
Remove the screen door from its track by taking off the screws on top of the sliding screen door.
Using a wire brush, clean the wheels of the screen door.
After cleaning, lubricate the wheels.
Clean the track of the sliding screen door with a wire brush.
Sweep off the loose dirt from the track.
Replace the screen door on its track and make sure the two bottom wheels of the door rest on top of the metal track tab.
Replace the screws you removed in step 1 and tighten them.
You can test the effectiveness of your cleaning job by sliding your screen door back and forth. With these simple steps and just 10 minutes or less, you can have a smoothly sliding screen door again.