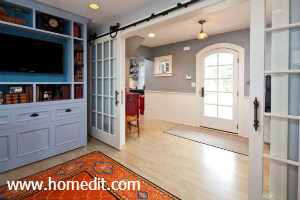 Sliding doors are a popular patio door choice, but because of their space-saving, versatile, and aesthetic qualities, sliding doors have also become a popular interior door choice. 
Sliding doors can be used inside a house as a division between your home's entrance and living space, to separate a home office from a living room, as a divider in a spacious bedroom or living room, and more. What's even better is that today's sliding doors are available in many different materials and designs that can complement all types of homes.
Take a look at the gallery here for interior sliding door ideas that will surely inspire you.