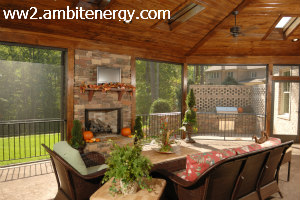 Retractable screens have become more popular lately. Sure, they offer some wonderful benefits, but just like anything else installed in the home, they also have some drawbacks that may be reason enough for you not to install them in your home.
Let's take a quick look at the pros and cons of retractable screens to help you decide if they are suitable for your home:
Pros
You can use retractable window screens when you need them and keep them out of sight when you don't;
You can install them in doors, windows, covered patios, garages, and more;
They provide shade and protection from harmful UV rays;
Some kinds of screens can minimize solar glare, which, in turn, helps to lower air conditioning costs;
You can enjoy unobstructed views of your backyard without having to worry about pesky bugs and mosquitoes; and
They improve ventilation in your home, which can help lower energy costs.
Cons
Retractable screens are more expensive compared to fixed screens;
They can have potential issues when it comes to animals since they aren't designed to prevent pets from entering or leaving the home, and it may be possible for pets to push their way underneath screens if not properly secured;
They have several moving parts that may need to be adjusted if the mechanism isn't functioning properly; and
The tracks used by retractable screens in doorways can be a potential tripping hazard, depending on the installation.