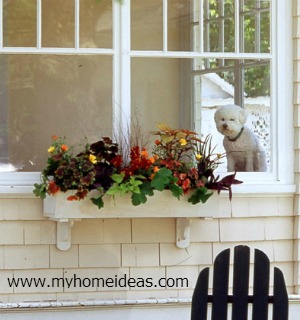 Both cottage-style and urban homes look even lovelier with window boxes, which can be the perfect way to create a little garden even with limited acreage or a small front yard. 
This fall, after your warm weather flowers have perished, you can beautify your windows with fall performers that can last until winter.  Here are some tips for charming up your home with window boxes shared by My Home Ideas:
Arrange the flowers in your window box as you would arrange a centerpiece, making sure there is balance and that they look good from all sides.
Choose plants with contrasting texture, color, and form.
Group plants with the same basic needs (e.g. grouping together sun lovers or grouping together those that prefer shade)
Plants you can use might include Icicle-brand pansies and violas, hardy ornamental kale, smooth-leafed ornamental cabbage, Pink Pigeon cabbage, Feather Red kale, as well as Asters, ivy hybrids, and similar grasses.
Experiment with color using a color chart when mixing plants and flowers in your window box.
You can choose a window box made of wood, plastic, copper, fiberglass, or zinc, but they all have their own pros and cons.