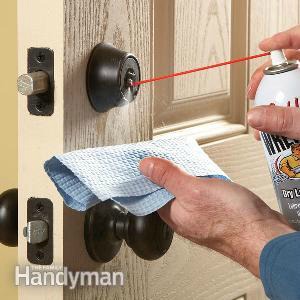 In as quick as five minutes, you can fix that stuck deadbolt and make your home safe again. Just get some Teflon spray lube, as well as a screwdriver just in case the first method does not work for you. 
The first thing you can try is simply to spray Teflon spray inside the keyway and twist your key inside several times to make it work smoothly again.  This solves the problem in many cases, but if it doesn't, just remove the screws holding the lock cylinder and detach the cylinder from the door.  Spray the bolt mechanism generously and turn it back and forth using a flat-bladed screw driver.  Once the bolt operates smoothly, re-install the lock cylinder.
You can read the full instructions here and see photos for each step to make sure you're doing it right.  Good luck and let us know if these tips worked for you.