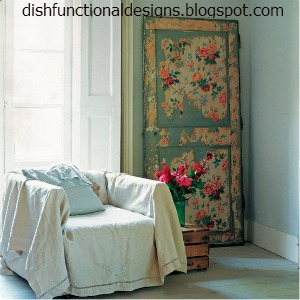 Just because your old door doesn't serve its original purpose anymore doesn't mean it can't be used for other purposes. In fact, there are many ingenious ideas for recycling old doors, whether they are solid wooden doors, French doors, or sliding doors.  Take a look through the gallery featured at Dishfunctional Designs and find numerous salvaged door ideas. 
Some creative ideas using salvaged doors include a solid wooden door covered with old wallpaper to accent a corner in the living room; a sliding door used as a pantry door; wooden doors connected to make a divider; a door used as a pot rack; a door decorated and used as a mirror; and doors repurposed as furniture, such as sofas, desks, and suspended garden tables.
The creative ideas and designs are endless. Don't forget to share your favorite ideas with us.