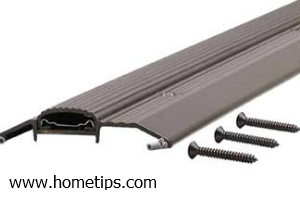 Door thresholds help seal the gap between a door and the floor. While they can solve the unsightly appearance of door gaps, they also help you save energy by preventing air flow in and out of your house through the gap. If your entry door threshold is damaged, replacing it would be a smart thing to do to make your home more comfortable and save on energy costs.
Here is a simple 5-step approach to replacing your entry door threshold shared by Home Tips:
Remove the worn-out threshold.
Measure and mark the replacement threshold.
Cut the marked threshold accordingly.
Clean the area where the old threshold was and where the new one will be installed.
Set the new threshold in place to see if it fits well before finally attaching it to the floor.
If you also have a threshold gasket that needs to be replaced, you can read the entire article here.