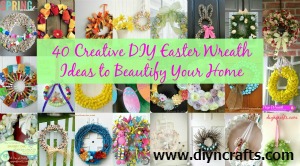 Easter is a meaningful holiday that many families look forward to.  Welcome Easter into your home with an Easter wreath for the front door that you can make yourself.  Get your kids to join in on the project and make the holiday even more special for the entire family. 
DIY & Crafts shares 40 lovely Easter wreaths you can make at home.  These wreaths aren't just pleasing to your eyes, but also to your kids, passersby, and guests as well.  Links are provided to step-by-step instruction so you can get started now. Some creative wreath materials include wrapping paper, marshmallows, plastic eggs, yarn, twigs, tissue paper, and more.
Check out the gallery here.