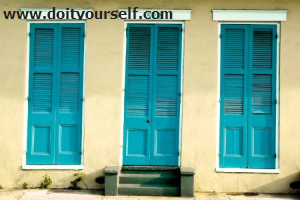 A door threshold is a piece of wood or metal installed beneath a door to help protect the door frame from rotting. It also minimizes or eliminates drafts under a door and protects your home against dust, rain, insects, rodents, and mold. Thresholds can either be fixed or adjustable. If you happen to purchase a fixed one, follow these simple steps for installing an aluminum door threshold beneath your door:
Measure the area where the threshold will be installed and cut the threshold accordingly. To take measurements, you can use the dimensions of the old threshold to be replaced or use a tape measure if none exists. Cut to size, making sure the door swings properly.
Mount the threshold with the screws that are usually included in the package, as well as adhesive that is water and weather-resistant. Make sure the surface of the floor is clean before installing your threshold.
After installation, check to see that the threshold slopes away from your home's interior to ensure that rain cannot get inside.  You may then apply waterproof caulk to the grooves at the sides of the threshold that connect to the door jambs.