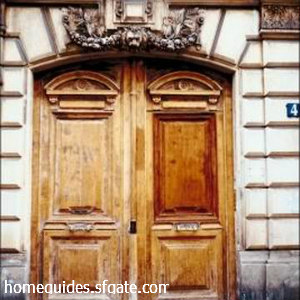 Continuous exposure to direct sunlight can cause wooden doors to fade over time. Planting trees that provide shade or installing an awning can help preserve your door's original condition. However, if your wooden door is already faded, you can always refinish and restore it to give it an elegant new look.
Here is a quick summary that describes how to refinish a sun-damaged wooden door:
Remove the door and its hardware starting with the hinges. Lay the door down on two padded sawhorses.
Sand the flat surfaces of the wooden door making sure to cover the top, bottom, and edges of the door.
Apply a chemical stripper to the corners, crevices, and molding near the raised panel.  Let set, and then wipe with a clean rag. Sand the same areas with a sanding sponge once dry.
Clean the dust from your door by brushing the sanded area and wiping the entire door with a damp rag.  Flip the door over, and repeat steps 2 and 3.
Using a paintbrush, apply a thin layer of spar varnish, or marine varnish, in the direction of the wood grain.  Start working from the panels, moving out to the corners, crevices, and moldings. Let the surface dry.
With 220-grit sandpaper, gently sand the door in the direction of the wood grain and wipe with a clean cloth. Apply another thin coat of varnish, and let it dry.  You can repeat the process of sanding and coating with varnish about four times or until the desired look is achieved.  Let it dry well before proceeding to the other side of the door.
Once both sides have dried, you can reattach the kick plate, hinges, and other door hardware.