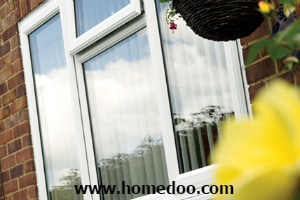 I ran into this article about uPVC windows and just had to share it. As a company we replace thousands of windows, including plenty of plastic uPVC types. So, uPVC is no more smart than wood. It's just different. Both have their issues.
More and more homeowners are choosing uPVC windows to replace their old ones, because they are practical and efficient, in other words, they are less expensive and offer an energy efficient option to old, out-of-date windows.
However, what is not stated in most information about vinyl windows is this:
They come in standard sizes. uPVC windows are not custom made to fit your home's window opening; so they need to be built out to fit a larger opening and forced in to fit a smaller opening;
Although double and triple pane glass does reduce noise, the heavier glass weighs down the plastic frame more rapidly as it expands and contracts with temperatures. Over time this causes the window to operate poorly and get foggy (the primary complaint of homeowners replacing their uPVC windows today);
Less maintenance is required for uPVC, however it does deteriorate over time. Heat and cold are unfriendly to vinyl, so it warps, buckles, bows and yellows;
The price is lower to purchase uPVC, which is one of the unfortunate disguises. Because in 5 to 10 years they will likely need to be replaced again, which makes them cost more in the long run;
They are guaranteed. Most uPVC windows carry a 10-year "limited" warranty, so what is guaranteed are things that are never likely to happen to a vinyl window, such as flaking, peeling, blistering and corroding;
They have an improved look. Unlike earlier versions in plain white plastic, today's uPVC windows come in more styles, which can further disguise their biggest problem, they are a short term solution; and
They add a benefit to your home when you plan to sell it. Homes with uPVC windows mean the new homeowner won't have to replace the windows right away, but eventually vinyl windows fail, and the original homeowner will be long gone when the windows need to replaced again.