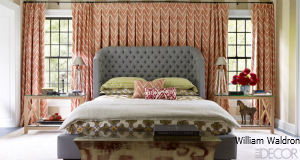 There are a lot of window treatments that can provide privacy for your home if you need it. But when style is concerned, it can be hard to even begin the process of choosing the right treatment.
Because it is sometimes difficult to imagine what's best when dressing your windows, be sure to consider both functionality and style. Ellaine Griffin of Elle Décor shares some tips that will help you make your window treatment decisions.
Some of the most useful tips include the following:
Ensure that your curtains complement the rest of your furniture.
You can use blinds, shades, or curtains, but if you want a formal look, curtains and shades are your best options.
Deciding between Roman shades and blinds depends on how much light and privacy you want in the room. Roman shades let in no light and offer total privacy, while blinds can be adjusted to provide more light and more of a view.
Consider black-out treatments for bedrooms.
The length of your curtains is totally up to you. You can let them just kiss the floor or go for a puddle of three to four inches for a more modern feel.
You can read the rest of the tips here.