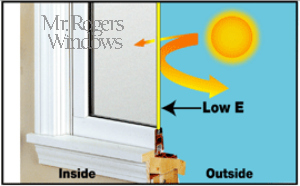 Imagine sitting down at the end of a long day to dive into the novel you've been reading or the next episode of your favorite television show. Sounds delightful, doesn't it? Except, it isn't delightful at all because you are either too cold or too hot.
It's frustrating when, depending on the weather outside, you have to bundle up in blankets or strip down the lightest clothing you own in order to be content inside your own home.
If this is your reality, leaky windows may be the reason why.
Your precious relaxation time (or any other time you spend in your home) should not be diminished because you're freezing or sweating. When you notice that you have to crank your thermostat either up or down to attain a satisfactory temperature inside, this is your cue to start looking for leaks.
5 signs that your house is not energy efficient:

1. You're cold even though your furnace is running (or you're hot even though your air conditioner is running).
2. The comfort zones in your house are only in close proximity to heaters, heating/cooling vents and fans.
3. Your utility bill keeps rising even though your house doesn't stay at the temperature you desire.
4. There's a build up of moisture around the windows.
5. You feel drafts when you sit or stand near windows, especially on windy days.
According to the National Insulation Association, 20% of heat loss in a home is through the windows. As you play detective and look for the source of drafts and high heating/cooling bills, make sure to closely examine your windows. You can hire a professional energy auditor to do an inspection or you can conduct simple tests on your own.
3 Tests for leaky windows*:

1. Close all windows, exterior doors and fireplace flues. (Be sure to temporarily turn off your gas burning furnace and water heater for safety). Turn on all exhaust fans (kitchen and bathroom). Light an incense stick and pass it around the edges of your windows. If the incense smoke wavers or is sucked outside, you have a leak.
2. Shut each window on a dollar bill. If you can pull the bill out with ease, you've got a leak.
3. Turn off all lights in your house at night. Ask a family member to go outside your ground floor windows while you stay inside and shine a light around the perimeter of each window. If the person outside can see light at the edges (sill, frame, etc.), you have a leak.
Get comfortable with energy efficient windows.
You shouldn't have to overwork your furnace or air conditioner just to be comfortable! Your windows can (and should) do a large part of the work by preventing outside hot or cold air from coming in.
You can add weatherstripping to windows and apply caulk to gaps as a short-term fix for leaky windows, but for best effect, consider replacing them.
Even newer homes that are over ten years old have improved efficiency with new windows and most older homes would benefit from window replacement too. Click here for more information about how to maintain the beauty of an older home when adding modern windows.

When you choose high quality replacement windows, you get the benefit of the latest technology and you are making an investment that will pay for itself in the future. The Renewal By Andersen company claims that their windows are 70% more efficient in the summer and 47% more efficient in the winter.
This not only means you save money on utility bills over the years, you also get to enjoy your home in ultimate comfort, regardless of the weather outside
Renewal By Andersen windows are designed to shield you and your family from the temperature fluctuations outdoors, which is one reason why they are Green Seal certified. The double pane of glass with an argon pocket of air in-between deflects the heat so that less of it comes through. You can still enjoy the natural light streaming through your windows without becoming overheated. Learn more about the Low E coating on energy efficient Renewal By Andersen windows.
Before you spend another Saturday morning shivering (or sweating), look closely at your windows and take steps to plug up leaks or make the decision to replace them. You deserve to be completely comfortable and relaxed in your own home!
*Home tests for leaky windows are from www.energy.gov