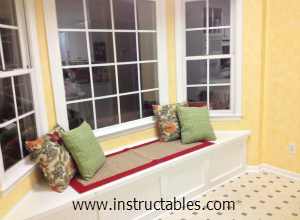 The space below a bay window can be better utilized with the installation of a window seat. The seat can serve as storage for things you do not want in the attic, such as extra blankets or pillows, children's toys and games, or things that you use only occasionally like camping equipment, air mattresses, and more.
With enough DIY experience and the right skills, you can make a window seat by yourself over the weekend without the help of a professional. Instructables can help you do this by providing a step-by-step tutorial on how to build a window seat with storage.  The post also includes images to guide you all the way through the project.
This project is very practical but also very appealing, giving your home a lovely upgrade.