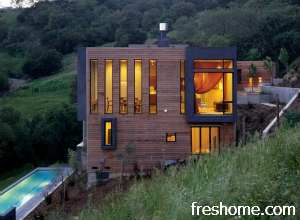 Yes, it can be very overwhelming to choose exterior windows nowadays. With the huge variety of types and styles available, you may just want to choose by closing your eyes and pointing to a picture in a catalogue. I admit that it's not that simple, but with the right guide, choosing the best exterior windows for your home can definitely be made easier.
We found Freshome and read several tips for choosing the right exterior window style. From their helpful guide, here are some of the most important tips:
Choose a window style that matches the style of your home, such as contemporary or traditional.
Consider the purpose of each window, whether it is to let light into a dark area of your home or simply for aesthetics.
Choose the proper type and size of window for the amount of ventilation you need.
Be sure to consider the orientation of the sun in relation to your windows to make your home more energy-efficient.
Choose the right kind of operable windows (awning and sliding are two examples) based on your home type and specific room needs.
You can read the details and the rest of the tips here.