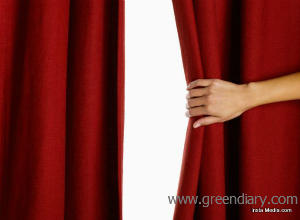 Your doors, windows, and many items in your home may be eco-friendly, but how about your curtains? How do you choose environmentally friendly drapes that are not only functional, but also good for the environment?
Here are some tips shared by Green Diary on choosing eco-friendly curtains:
Avoid synthetic fibers like polyester, nylon, and rayon, which are petroleum-based and non-biodegradable.
Avoid curtains that use artificial dyes, which are not good for the environment.
Choose natural fibers like cotton, wool, linen, and silk.
Cold homes can take advantage of wool for increased warmth. Wool curtains are also stain- and fire-resistant.
If you want colored curtains, select color grown cottons, which are organic.
Choose light-colored natural fiber curtains during the summer to help deflect sunlight and make rooms feel cooler.
During winter, choose dark-colored natural fiber curtains that absorb heat and keep rooms warmer.
For an eco-friendly but still elegant option you can choose curtains made from bamboo or silk .