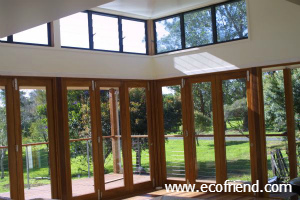 Bi-fold doors look elegant no matter what type of home you have, and they come in various types and materials.  If you are planning to install bi-fold doors on your patio and are also looking for eco-friendly options, here are some things to think about that will help you make the your choice:
Wood might not be an eco-friendly option for you, since the material comes from trees;
Fiberglass, aluminum, and steel are great materials since they are durable, weather-proof, and cost-effective;
Aluminum bi-fold doors may be a good option since they provide great access with their small profile and narrow frame; and
When choosing rollers, consider nylon rollers, which are less expensive and sturdier than steel.
To get more food for thought, as well as information on installing bi-fold doors, click here.