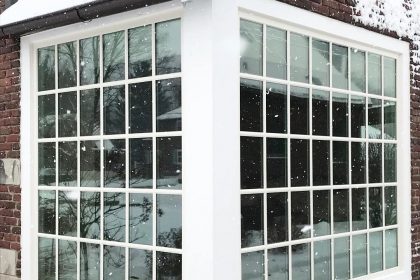 Leaves on the ground and a chill in the air can only mean one thing: winter is on its way back to Hampton Roads! Before the cold weather sets in, you may want to take a moment to make sure your windows are working correctly. If your windows have cracks or aren't sealing properly, you'll want to have them replaced before they turn your home into an icebox!
Choosing brand new replacement windows from Mr. Rogers Windows and Doors will keep your home nice and toasty all winter long. We're the Hampton Roads area's exclusive source for Renewal by Andersen windows. Every one of our Renewal by Andersen windows is built to last and custom crafted to your specifications. With a full range of customizable colors, hardware, and finishes, you'll be able to design a look that's all your own.
So, which replacement window is right for you? At Mr. Rogers Windows, we can transform your home with:
Casement windows: Just because it's chilly outside doesn't mean there's not plenty of sunlight to bring inside. Casement windows fill your home with natural light while keeping out any exterior noise. When warm weather returns in the spring, you can simply crank the handle to let in fresh air!
Bay and bow windows: Bay or bow windows make your home an even more gracious, welcoming space. These windows curve outward to add space and make you feel closer to the outdoors. Add a bench seat and create your new favorite place to unwind.
Picture windows: Winter brings out an entirely different side of Tidewater's natural beauty. By adding a picture window, you'll be able to show off the spectacular views surrounding your home, whether you're living among the trees or by the water.
Specialty windows: Make your home as unique as you are! Specialty and accent windows add a pop of style to any space. Available in a number of interesting shapes, these windows are sure to make a statement.
No matter which style you choose, all of our Renewal by Andersen windows feature smart technology and superior energy efficiency. When you include SmartSun™ Low-E4® glass, you'll reduce your energy consumption, add comfort to your home, and even lower your energy bills. With our fully transferable 20-year limited warranty, you can feel confident that your windows will stand the test of time.
Ready to get started? Give Mr. Rogers Windows a call today to schedule a free consultation. We can't wait to make your home even more beautiful.