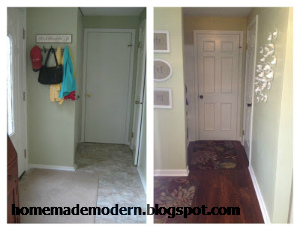 One of the most common problems with having a steel door, just like any other plain door, is that, over time, it can become boring to look at.  It can also suffer from dents, which can be really unsightly.  So what can you do with a steel door to give it a fresh new look?
A solution for both the problems of monotony and dents is adding molding to your steel door.  Just like other small home remodeling projects, the simple addition of molding on a door can give your home a new stylish look.  It's like installing a brand-new, raised-panel door.
What you need to do is simple. Remove the door from the hinges, attach the molding to the door according to your desired design with liquid nails, and then repaint and reattach the door. It is a fairly easy project to complete and a very budget-friendly one too.