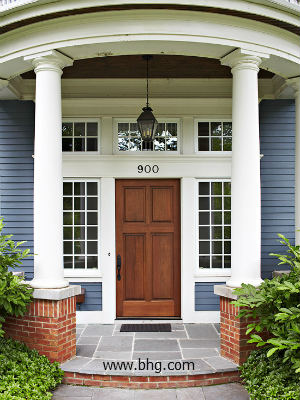 Do you want your home's primary entrance to be more welcoming and bright? Entry windows and sidelights are a great way to accomplish this. Windows and sidelights allow your entryway to receive more natural light, provide better views of the outdoors, and can add style and sophistication to your home's façade.
There are many wonderful options when it comes to adding sidelights and windows. You can install sidelights on one or both sides of your entry door, place fixed windows with grids around the door, add a plain pair of sidelights with shutters for added privacy and light control, or install entry windows above your door that soar up to the second level of your home. You can even make one pair of French doors look like two pairs by adding fixed windows on either side.
You can find more gorgeous and truly inspiring entry window and sidelight ideas shared by Better Homes and Gardens here.