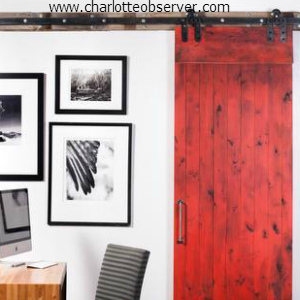 Doors that swing open can take up a considerable amount of space in a home.  If you have a narrow home but need a door to separate different rooms or areas, there are practical door options for you.
For space-saving interior access, you can choose from sliding pocket doors, sliding barn doors, or bi-fold doors.
Sliding pocket doors.  All you need is some wall space to fit a sliding door.  Because a pocket door does not swing open, it allows you to save space.  Pocket doors are also great for people in wheelchairs who need easy access in their homes, as well as for small children or pets that need to stay where they are put.
Sliding barn doors.  Where there is not enough wall space for sliding pocket doors, sliding barn doors can be another option.  This is especially applicable for those with existing door openings.
Bi-fold doors.  Another option you can consider is installing bi-fold doors.  With recent improvements that make folding and opening more efficient and smooth, bi-fold doors are making a comeback today and come in wood or a combination of wood, glass, and other materials.