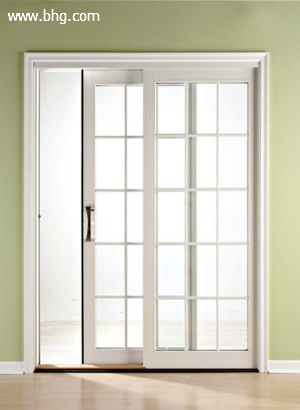 We all know that sliding doors are very functional. This is probably the reason many homeowners prefer sliding glass doors on their patios. However, choosing window treatments for sliding doors, whether you want them for privacy or decorative purposes, can be very challenging. Unlike traditional windows that can be dressed with any curtains, blinds, or shades you want, there are many limitations when it comes to dressing sliding doors. How do you protect the privacy of your loved ones and the style of your home without sacrificing the functionality of your sliding doors?
Here are some brilliant sliding door window treatment ideas shared by Better Homes and Gardens that just might be the answer to your problem:
Sheer panels attached by ring clips that do not weigh down the light and airy look of your sliding doors.
Side-mounted panels that do not move. Consider choosing bold colors and patterns that double as art.
A simple and eye-catching valance that acts as a focal point without obstructing the view or hindering the sliding door's functionality.
Sliding panels made of durable, easy-to-clean curtain fabrics that can stand up to the frequent traffic of a sliding door.