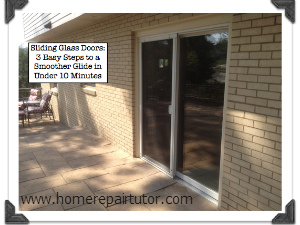 One of the problems faced by homeowners with sliding patio doors is that they can get stuck when they are being opened or closed. Sometimes, they just don't glide smoothly. If you have at least 10 minutes, you can try the following steps to keep your sliding door running smoothly:
Clean the inside of the sliding door track with a toothbrush or wire brush, followed by a vacuum cleaner.
Lubricate the sliding door track with WD-40 or a silicone-based lubricant.
Adjust the sliding glass door roller by first prying open the plug that covers the screws of the roller and then adjusting the screws with a Phillips screwdriver until the door slides better. Spray a small amount of lubricant into the adjustment screw opening before replacing the plug.
They may sound too good to be true, but the tips shared at Home Repair Tutor on giving your sliding door a smoother glide in less than 10 minutes are worth a try.  Click here to get the details and see illustrations.
Let us know how it worked for you.