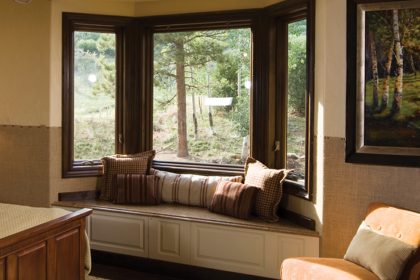 Bay windows can be an incredible addition to any home. They allow natural light to flood the room, and every bay window you add ups your square footage a little bit. Whether you already have bay windows in your home or you're looking to invest in bay window installation, here are three ideas on how to utilize the extra space that bay windows will give you.
Extra Storage
Turning your bay window into an additional storage space is perfect for small homes or homes without a ton of closet space, attic storage, or a basement. Unless you're a serious DIY whiz, you're probably going to want to hire a contractor to turn the space below your bay window into shelves, drawers, or bench storage.
Reading Nook
This is one of the most classic ways to make use of your bay window. All you have to do is add a seat cushion, and you're in business. You can read your favorite book while bathed in natural light and enjoying a view of the outdoors. If you can't find a cushion that perfectly fits the dimensions of your bay window bench seat, simply find that the closest match you can and cover up the remaining space with throw pillows.
Indoor Garden
One of the challenges of growing plants indoors is making sure they get enough sunlight. Turning your bay window into a mini indoor garden is a great way to make sure your houseplants can thrive. Do a little research and buy some potted plants that love to soak up sunlight. You can even try your hand at growing some herbs to use in your cooking. Your new indoor garden will look beautiful, and all your plants will also help keep your home's air clean and healthy.
Take Advantage of Our Current Offer
There's no better time to invest in bay windows. Mr. Rogers offers the highest quality windows and window installation around. Don't miss out on our amazing deals!