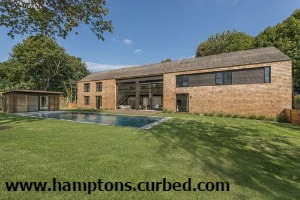 Houses are getting trendier day after day, year after year. I just happened to read a post about a modern house in East Hampton with roll-up glass doors situated just beside a pool. How cool is that?
The house sits on a 0.55 acre, or 23,958 square feet of land. The roll-up glass doors are positioned in a high-ceilinged living room, leading outside towards the pool. It's a perfect fixture for parties and gatherings. This modern industrial house has a master bedroom on each floor, 3 additional bedrooms, 5.5 bathrooms, and a pool house.
You can see more photos of this modern home here.  Don't forget to let us know what you think about this house.