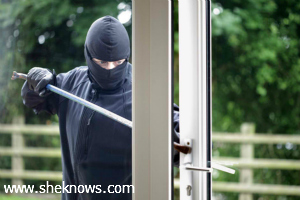 Thieves often have favorite spots in houses where they think they can easily enter because security measures are not sufficient.
Here are the 3 most common entry points for home invasion as shared by Kevin Coffey, a police investigator and author of books on theft. Included are also tips on what you can do to secure your home from burglars.
Exterior doors
Front, back, and patio doors are the number one spot for home invasions. Many exterior doors are built to make your entryway look appealing, but they may not be the most secure options. While there are security measures you can take, some exterior door are just not sturdy enough to avoid break-ins.
Tips:
Opt for solid wood, fiberglass, or metal doors over hollow wood doors;
Choose an outward swinging door configuration and security hinges;
Avoid glass panes beside the door, which burglars can break and then reach through to get at door locks;
Use a rod on your sliding glass door track;
Use high-quality metal strike plates and grade 1 or 2 solid metal locks; and
Immediately replace exterior door locks in case your keys are lost or stolen.
Windows
Windows are another favorite spot for intrusion, especially windows that are situated in dark areas or bushy spots around your home. These burglars do not necessarily break the glass, which might attract attention, but they will try to force open the locks.
Tips:
Replace latches with key-operated locks;
Take off the operator crank on casement windows;
Replace regular glass with laminated or tempered glass; and
Consider using wired glass for windows in your basement.
Garage doors
Older garage doors can easily be broken into with a code-grabber device, allowing intruders inside your home.
Tips:
Use an automatic opener with rolling-code technology;
Openers should not be left in the car. Keychain remotes are a better option; and
Padlock or use c-clamps on the throw latch on two sides of the door track when on vacation.
While other areas of your home may also be prone to intrusion, these three are the most common.  Make sure other parts of your home are also well-secured to keep burglars away and to keep your home safe.