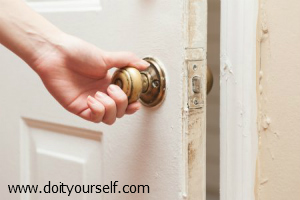 Doors that don't work properly don't always require instant replacement or a call to the experts for costly repair work. Sometimes all you need to do is discover the cause of the problem and do some troubleshooting to save yourself time and money.
Here are some of the most common door problems and ways to deal with them:
Loose or misaligned hinges. When your door drags at the top or at the bottom or when the knob striker does not hit the striker receiver correctly, chances are your hinges are loose. Tighten the screws on your hinges or replace screws that won't stay tight with longer screws.
Misaligned striker. The striker is the spring latch inside your door knob that pushes against the striker plate. If this is misaligned, your door may not stay closed but, instead, pull open by itself without anyone turning the knob. Moving the striker plate up or down will usually solve this problem.
Loose or worn threshold. If you notice that your door is rubbing against the threshold at the bottom of your doorway or if it rides too high over your threshold, your threshold could be loose or worn out. You can adjust it by tightening the screws to lower the threshold or loosening the screws to raise it. If the threshold is worn out, you can simply replace it.
Other common door problems might also be solved by resetting the frame of your door or by planing your door.
Learn more here.