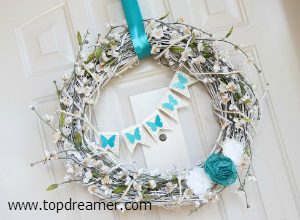 Everyone gets excited for the arrival of the spring season. Are you ready to embrace spring into your home? We are happy to share with you some unique spring wreaths that you can make for your own front door.
More than a dozen DIY spring wreaths are featured in this gallery, including traditional flower wreaths, as well as creative and resourceful ideas including the use of garden hose, ping pong balls, scrap fabric, and even Skittles candies. For something special, you can even use paper napkins to make a wreath and decorate it with little banners.
You can be as creative as you want with your spring wreath, and don't forget to share your creation with us.