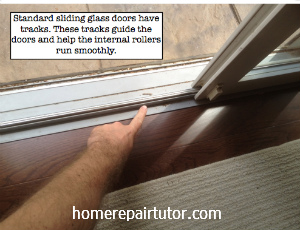 If your sliding glass door becomes difficult to slide, all it might need is just a little cleaning, lubricating, and adjusting.  The good news is that it will take you as little as 10 minutes to clean and lubricate your sliding glass door. 
All you need are a toothbrush or wire brush and a vacuum for cleaning the tracks of your sliding glass door; WD-40 or a silicone-based lubricant for lubricating the track; and a steak knife and a Phillips screwdriver for adjusting the rollers of your sliding door as necessary.
For detailed instructions with images, please read the full post by Home Repair Tutor here.
If you have other tips to add, please share them in the comments section below.