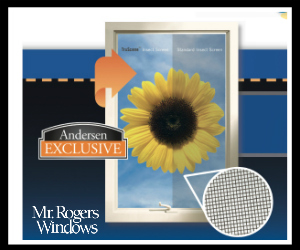 Are you one of those homeowners who needs screens for your windows but doesn't like how they obstruct your view of the outdoors? Well, this may be the solution you are looking for – TruScene screens by Andersen. Unlike traditional screens, TruScene Andersen window screens are made of a special mesh that goes beyond just protecting your home from unwanted insects. Here are six reasons why TruScene screens are great for your windows.
They are made of a micro-fine mesh that provides a clearer view of the outdoors. One of the most irritating facts of screens is that they impede the view through a window. Compared to traditional window screens, TruScene Screens by Andersen provide 50 percent better clarity.
The weave of a TruScene screen is tighter, which helps keep more water and dirt from passing through the screen.
There is the option of a full window screen. While homeowners can still choose to install only half screens, they can also choose to take advantage of the better ventilation provided by a full window screen.
TruScene screens by Andersen also come in a variety of color and casement options that will match various Andersen windows.
They are very durable. The tightly woven, stainless steel mesh is resilient and makes TruScene screens resistant to impact and tearing.
The micro-fine mesh of TruScene screens also provides the ultimate in bug protection.
TruScene Andersen window screens may be a bit costly, but they make a great investment because of their advantages and can enhance the value of your home in case of a resale.