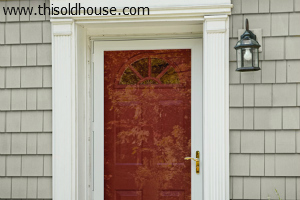 If your front door is a bit dated but still functions well and looks great, there is no need to replace it to improve energy efficiency. A wiser thing to do would be to install a storm door to help reduce air leakage. A storm door will also help protect your entry door from external elements, such as snow and wind.
Installing a storm door may be done by your door supplier, but you can also choose to install it yourself. Here is a summarized guide on how to properly install a storm door:
Measure the length and the width of your doorway to determine the size of the storm door you need to order.
Put the door in place, drilling pilot holes through the rail and into the face of the casing and then screwing the rails to the casing's face.
Take off the clips that secure the door. Open the door and drill more holes into the edge of the casing. Insert a screw into each hole, but do not over-tighten. Remove all other spacer clips and mount the door latch.
Attach the door closer bracket to the jamb against the hinge, horizontal to the glass trim.
Mount the door closer by extending the arm of the closer as far as you can and then using pins to connect the closer to the jamb bracket and door bracket. Also fasten the rain cap mounting flange that covers the gap between the top of the storm door and the head casing.
Adjust the door sweep. Do this by loosening the screws of the door sweep and letting the sweep drop to the sill before tightening the screws again.
For more detailed, illustrated instructions on installing a storm door, read the post from This Old House here.