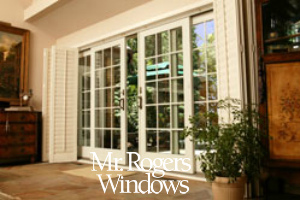 French doors are not only elegant and stylish, but they also provide a great view into the outdoors. The problem, however, is security. The view you have as you look outside is as clear as the view that outsiders have of the inside of your house. And burglars, especially, will have a great interest in the contents of your home.
Even if you have window treatments on your French doors to provide privacy, the fact that the doors are made of glass makes them an easier entry point for burglars than solid entry doors. So how do you keep your French doors secure? The answer is to choose the best French door lock.
Surveillance for Security shares some tips on choosing locks for French doors, as well as other options you can consider to add security to your home. Here are some things to consider when choosing French door locks:
Deadbolt locks are better in adding security to your double French doors than rim locks or latches;
A double cylinder lock will make it difficult for burglars to open your door in case they break the glass, since they still need a key to unlock the door from the inside;
Since double French doors do not have a central post, a double cylinder lock can only be secured to the other door panel, making it less safe;
A double cylinder lock also has issues when it comes to emergencies, such as fire, since you still have to unlock the door from the inside with a key;
If you decide to install a double cylinder lock, make sure you place the key where it is accessible to your family, but not near the door where burglars can reach it;
A single cylinder lock is easy to unlock during emergencies, but burglars can also just reach for the knob once the glass is broken;
You can keep your French doors secure with a single cylinder lock by also installing security film on your glass panes, using laminated glass, or installing an alarm system;
Slide bolts or flush bolts may be fitted to the inactive door to give the active door and the lock something more solid and stable to hold on to; and
Make sure your French doors and their locks are well-maintained to ensure security.