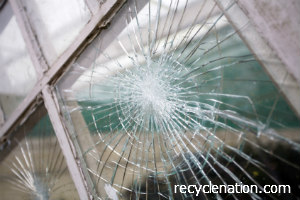 Windows can easily be recycled to make a garden green house, home decor, furniture, and more. However, the glass in a window, especially an old and broken one, is difficult and, to my knowledge, maybe even impossible to recycle in the same way as glass bottles.
So why not recycle window glass right alongside glass bottles?  Because these types of glass differ in chemical composition and melting temperature, they are impossible to melt and recycle together.
What also makes window glass difficult to recycle is the fact that the glass in windows can vary greatly. There is tinted glass, non-tinted glass, tempered glass, safety glass, and more, none of which can be recycled together.
There are unconventional ways to recycle window glass, though, such as melting it to make fiberglass, glassphalt, and more.
You can read more about recycling window glass here.